Playing the piano can be a profession or a simple hobby. Some professional piano players may not agree to play their music on a portable digital piano, as they usually prefer the old style, classic pianos.
Nevertheless, more and more of these professionals, as well as hobbyists decide to take advantage of the benefits of a portable digital piano. Here are a few of these benefits.
Main Benefits of A Portable Digital Piano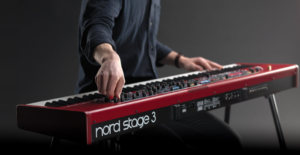 Portability allows professional players to accept jobs that wouldn't have been possible otherwise. They can install their instrument in coffee shops, bars, restaurants, and hotel lobbies, thus being able to take even smaller gigs to earn a little money on the side.
Also, a portable instrument makes it possible to offer piano lessons to children who don't have their own piano just yet. Teachers can come to their students with their own piano, at least until the students can afford to buy their own instruments.
Besides, even if students can come to the classroom for the lessons, the whole process is much easier when there's no need for a massive piano. Digital pianos are compact and relatively lightweight. They are easy to pack and carry around wherever you need.
Students can also benefit from using a digital piano to improve their practice and to perfect their skills. They can play the piano whenever they want, without disturbing their neighbors.
Digital instruments allow for silent practice with headphones. The student can hear the music without causing any inconvenience to other people in the house or to their neighbors.
Also, professional piano players who need to rehearse their concerts can make use of the silent practice. This can allow them to hone their skills and to learn new songs without worrying about disturbing anyone.
If you always wanted to play the piano for many hours a day but you weren't able to do it because of your neighbors, you'll be glad to use a portable digital piano connected to a headset. Nobody will ever know when and how much you play, since your practice will be totally silent.
The ability to record is another huge benefit of a digital piano. This can be an extremely useful tool to improve your skills. By listening to your performance, you can identify the main areas for improvement much easier than by using a classic piano.
Also, the recording makes online piano education possible. Students can record their homework and send it to their teacher to get feedback.
There's no need for the physical presence in a classroom or in a concert hall to make such things possible. Students can even benefit from online exams, thus avoiding the need to get out of the house.
Last but not least, you have to consider the price of such instruments. Portable digital pianos are usually less expensive than massive wood, traditional instruments. You can enjoy all the above-mentioned benefits while also saving some money along the way. There's no wonder that the future of musical instruments is digital. The advantages are too good to ignore.
Source:
Digital Pianos Vs. Real Pianos