Basketball is a delightful game that has an effect of leaving its players wanting to play all over again. However, the absence of a court may hinder you from playing whenever you wish. Rather than having to rely on central courts, which are often in public places, you can opt to build your court in your backyard if you have enough space.
The process does not require so much expertise skill; therefore, with an extra hand, you can finish the job successfully. First, you have to purchase an inground adjustable basketball hoop that will suit your preferences; then, after that, you are set to start on the procedure.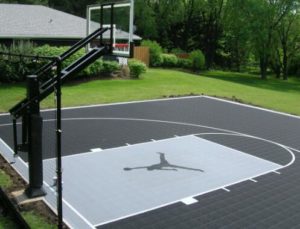 Benefits of Getting Basketball Court in Backyard
Although the thought of having a personal basketball court sounds overwhelming, there are far many more benefits that come with it. Its presence will always motivate you to play, which translates to a healthy lifestyle. You can involve the whole family, and if you have any interested neighbors, they can as well tag along.
Despite the number of hours you invest in playing, the working out has a positive impact on your body. Continous playing will give you discipline, which a requirement when you become engaged in the game. Competitive games require organization skills and patience, which are essential aspects that you can use any other place when you are working with people.
Furthermore, the presence of a unique type of basketball court will immediately improve the aesthetics of your home. You can opt for fancy and sophisticated equipment rather than the typical ones depending on your financial capability. Also, a basketball court does not limit you to playing the relevant game. If the surfacing gets appropriately done, you can play other games like volleyball, badminton, among many other fun activities you prefer.
Building A Basketball Court.
If you are considering building a backyard basketball court, the first requirement is enough space. Your backyard should have sufficient space to allow for movements whenever you are playing Sizing is essential to evaluate if what you have will fit a full or half-court. Depending on your preferences, you can either decide to hire a professional or do it yourself, but the process is just the same. After space allocation, you will require concrete to cover the area.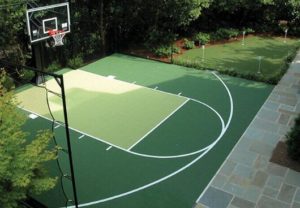 The product is quite costly, but it is the most recommended base material for any basketball court. You have a guarantee that it is durable and will serve you for a long time. Also, it offers the best performance in terms of the ball bouncing back. There are other less expensive materials like compact stone or asphalt pads; however, concrete still beats them all. Later you should gather all the relevant pieces of equipment which include hoops, marking materials which are bright and visible whether during the day or at night and stencil, which will offer a smooth surface for playing. After setting up the floor as required, you can fix the hoop according to the specifications. In the end, you have to make the necessary markings, allow for the place to dry, and you can start playing.
Setting up a backyard basketball court is tiring, but you have more to benefit once completion. You can improve your skills within a short time because of playing frequently. It might be costly, but it is worth it.